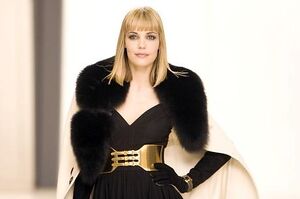 Alicia Billington
was a former employee at Brandon Communications. She is described as being blonde, rich and having long legs. This earns her the nickname Alicia Bitch Long-Legs by both
Becky
and Suze because she's described as selfish and uncaring of others. It's revealed that Alicia and Suze have a bitter history with each other stemming from the time they worked at Brandon Communications as PRs.
The Secret Dreamworld of a Shopaholic/Confessions of a Shopaholic
Edit
Alicia was introduced early on as an employee of Luke's at Brandon Communications. Early on, she has treated Becky with nothing but the utmost contempt. This contempt would later find it outlet.
Confessions of a Shopaholic film
Edit
In the movie version, Alicia(Lesie Bibb) was portrayed as a rival of Becky's when she got a job at Alette, a fashion magazine run by Alette Naylor, that she wanted so bad. After seeing her fashionablly accessorize a dress that her boss bought for a fashion show, she becomes fearful and jealous of Becky. Like in the 2nd novel, Alicia played a crucial role in ruining her TV debut that could've gotten her a job at Alette by helping an antagonistic Derek Smeath expose her for being unable to pay off her debts. When Alette learned the truth of her involvement in ruining Becky's chances in her magazine, she fired Alicia right away and offered the job to Becky.
Shopaholic Abroad/Shopaholic Takes Manhattan
Edit
Alicia plays a crucial role in Shopaholic Abroad. In it, she is directly responsible for ruining Becky's TV career aspects by exposing her in an article from Daily World calling her a fraud for giving people advice in how to save money, when she can't do it herself and even uses her bank statements as proof. With her TV career ruined, Alicia turns her attention to embarrassing Luke by running Brandon Communications out of business. With her colleagues and her fiance, Ben, supporting her, she plans to steal all of his clients, including the Bank of London and set up business in King Street. Becky learns about Alicia's plans, tells Michael about it and Luke returns to England to dig up evidence. He finds a lot of evidence and took her, her colleagues and Ben by surprise in the meeting room by confonting them for their actions. Alicia is fired from Brandon C. for her plans to ruin his company's reputation with his clients by stealing their most important clients and setting up business elsewhere. Luke is also livid when he discovers her involvement in ruining Becky's TV career when he confronted the reporter who wrote the bad article to reveal her source.
Shopaholic & Sister
Edit
Though Alicia doesn't appear in the book itself, Becky had a nightmare about transforming into her complete with her selfish sneer and fancy clothes. She was laughing and taunting Jess for being boring, which crushed her.