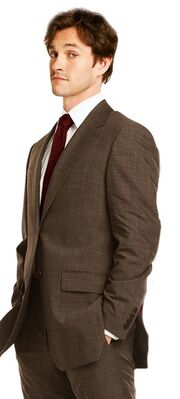 Luke James Brandon
, is a fictional character in the Shopaholic series created by Sophie Kinsella. He is the only son of James Brandon and Elinor Sherman. Luke has a sister named Zoe. He owns a financial PR company called Brandon Communications. In the movie version, Luke was portrayed by Hugh Dancy.
Personal Life:
Edit
Luke's family life was described as less than perfect. His biological mother, Elinor, had divorced James and abandoned him without a care. His father remarried, to a wonderful woman named Annabel. Despite not being his real mother, she loved Luke as she love her own daughter Zoe. He has two unnamed half-sisters with his father and Annabel.
He met his future wife, Becky, during a press conference while she was working as a financial journalist at a magazine, Sucessful Savings. He noticed her at her very first press conference, when she asked the PR director of Barclays Bank why they didn't make fashion cheque-book covers like mobile phone covers. After that, he sent her intivations to PR events, including conferences about commodity broking and the steel industry which weren't relevant to her magazine, because she always livened up proceedings.
Although when he met Becky, he had a girlfriend named Sacha. He said at the end of The Secret Dreamworld of a Shopaholic/Confessions of a Shopaholic, "You've had me on the hop for quite a while Rebecca." signalling he's been quite interested in her way of life since they became acquainted. Luke and Becky marry in England at Becky's parents' house on June 24, 2002.  He and Becky have a daughter named Minnie Brandon born on December 23, 2003
.
Confessions of a Shopaholic (Movie)
Edit
In the movie version, Luke is the boss of Successful Saving in New York in the magazine industry before leaving to run his own company Brandon Communications. He meets Becky through when she gets a job at Succesful Savings in order to work herself up the ladder to work at a fashion magazine. He originially saw no reason to hire her, but after recieving a letter from Becky begging as to why she should get the job (which was originally meant to be sent to the fashion magazine she wanted to work at, but she sent it to the wrong place by mistake) he decided to give her a chance. 
Luke takes Becky to a business conference after he sees her googling her assigned work and makes her jump up and ask questions even when she's not supposed to. She repeats everything Luke says under his breath to the business running the conference even though some of the things Luke says isn't what she was supposed to shout out. Luke finds Becky amusing after this conference and then decides to invite her to Miami with him to attend another conference because he believes she lightens up the mood so drastically wherever she goes. 
When they go to Miami, Becky had already become well known in the financial industry for her article in Successful Savings known as "The Girl in the Green Scarf". Anyone whos anybody wants to talk to her and Luke is happy to watch her mingle with the guests in the room.  Meanwhile a girl who got the job Becky originally wanted in the fashion magazine called Alicia, seems to have some kind of beef with Becky and purposely gets in the way of Becky and Luke getting together and Becky getting her dream job. Alicia pretends to trip on her own shoe and fall onto Luke in an elevator they were riding together and when he catches her, she thanks him and says they should go for dinner together some time (meaning the upcoming ball held for all financial companys in New York).
Back to the present, Becky and Luke go shopping for clothes for the ball, after Becky notices Luke never wears any super nice suits. As she walks in and wonders what she should get Luke to try on, Luke takes a stand and lists everything he wants down to the nicest shoes. Becky is surprised that Luke even knows the names of any of these designers let alone how he managed to pick out the nicest suit in the store. He tells her that he only dresses like he does because his mother is Elinor Sherman, one of the richest ladies in all of New York, and so he doesn't want people to label him under his mothers name. He also asks Becky what her opinion is on him and she tells him that she thinks he's an overworked boss who puts in so many hours but never reaps any rewards.
After they go shopping, Becky and Luke go and have a drink at a resturaunt and a lady with a bucket full of accesory fans comes around. Luke tells Becky she can pick one for him to buy for her. After she chooses one she asks why and he tells her it's because they are going to dance. Becky protests saying she can't dance but he said he will help her. It ends up becoming a very fruitful dance with Becky unknowingly whipping the fan in Lukes face multiple times. Luke enjoys Becky's outgoing personality and when they get back to the hotel, he becomes quite regretful when Becky brings up the subject of the upcoming ball, knowing he accepted Alicia's offer to go. He trys to explain that Becky and himself will still be going to the ball they won't be going together, but as he does Alicia comes into the hotel. Alicia asks Luke if he is excited for the ball and Becky instantly realises what Luke was trying to say. Luke asks if she would like to come out for drinks with Alicia and himself, not really wanting to go with Alicia at all, but being so sad Becky declines. As Becky walks away he becomes quite upset that he hurt her feelings so much and knew that he should have gone with her.
Becky gets back to New York separately without Luke and her roomate Suze helps pick out a dress for her to wear for the ball. Suze urges that she has to impress Luke but Becky says that Luke is going with someone else. 
Eventually when Becky arrives she is thought to be a waitres by the chefs as her dress looks the same as the ones the waitresses are wearing. Eventually after being pushed forward to serve the dinner at Luke's, Alicia and herselfs table, Luke helps her before she drops the serving tray and gives everyone their food. At the end of the night Becky goes onto the rooftop of the building after everything had gone so wrong for her so quickly. Luke finds her and gives her his jacket as hers ripped earlier in the night. Eventually Becky asks if he had filled any of the empty picture frames he had on his desk at work and he says he hasn't. She says he could fill them with pictures of Alicia but her spidery long legs probably wouldn't fit in the frame. He says he's never liked girls with spidery long legs and Becky says that she thought Alicia was his girlfriend. Luke turns to her and says "no she's not my girlfriend. She's not you." Luke and Becky kiss and the scene closes.
The next day Becky rushes into Luke's office after her bank manager Derek Smeath is after her to pay up on her bills. Luke is delighted to see Becky but she quickly tells him she's being stalked by her ex boyfriend rather than telling the truth. Security is called and Mr Smeath is escorted out of the building. 
Soon Becky gets an interview with Luke on The Morning Coffee and as she's picking out a dress, Alicia answers Becky's phone and tells Mr Smeath who is on the other line where Becky will be the next morning. When Becky and Luke go on the show, the host asks if the audience has any questions before they finish. Derek Smeath stands up and asks Becky why she is doing articles about how to save money when she is in unbelievable debt herself. Luke stands up and accuses him of being the ex-boyfriend of Becky and has been stalking her. Derek laughs and explains the truth to everyone on national television. Luke realises Becky had lied to him so many times since they'd met that he doesn't know what to believe and tells Becky not to see him again. When Becky goes home, her roomate realised Becky sold her bridesmaids dress for a dress to wear on the Morning Coffee and tells Becky she never wants to see her again. 
When Becky thinks everyone hates her, she goes up to her parents house and they decide that they will sell almost all of Becky's clothes in order to get her out of debt. Word gets around town that The Girl In The Green Scarf is having a sale and suddenly everyone wants to go so they can buy her famous green scarf. Luke finds out about the sale and goes back to work. Everything Becky put up for offer got sold and was sad to see her famous green scarf get bidded on buy one lady and a bidder on the phone. Eventually she lets the lady get it and her dad announces that she has made enough money to get out of debt. She quickly trades Suze's bridesmaid dress back off a homeless lady who bought it for her favourite coat and rushes to the wedding. Although Suze is angry, she was happy that her bestfriend could be there and that she got her dress back. After the wedding Becky begins walking home and stops to look at a handbag she spots in the window of a store. Realising she never wants to be so deep in debt again she walks away, and suddenly all the manniquens in the store windows begin clapping her for not buying unnessecary things.
As she's skipping along proud of herself, she almost runs into Luke who had been standing there watching her. He asks if she really did sell all those clothes and she tells him yes. He questions the colorful dress she's wearing but he realises it was for Suze's wedding which he read about in the paper. As they talk quickly, Luke reveals the famous green scarf in his hands an Becky realises the bidder on the phone was him, but then she remembered the bidder on the phone lost. Luke tells her that both of the bidders were for him, and that she should never give away such an important scarf. Becky and Luke end up making up and kiss to end the film.
The Secret Dreamworld of a Shopaholic/Confessions of a Shopaholic
Edit
The readers are introduced to Luke as the CEO and owner of Brandon Communications. He is described as over 6 feet(possibly 6'5), dark hair, brown eyes and very intimidating. He always seemed to have a frown on his face and meets Becky during a press conference. He lent Becky £20 when he overheard her asking guests at his conference if they had £20 to spare. Becky bought a green scarf for herself with the £20, but Luke was under the impression that she needed the money for her Aunt as a present.
While walking along the streets, he bumps into Becky coming out of Denny and George, holding an expensive new  scarf. He takes it that it's the present for Becky's "Aunt" and tells Becky her aunt must have a lot off style to want a scarf from that store.
One night Luke went out with his mother, Annabel, and his father, James, to a resturant and had his conversation at the dinner table interupted by Becky who was looking for a desperate escape to get away from her forced dinner date with her roomate, Suze, and Suze's cousins. As he introduced Becky to his parents he noticed she was wearing the green scarf which was supposedly meant for Becky's "aunt". Becky quickly rushed out a lie, telling Luke and his parents that her Aunt died suddenly in the past few days and left the scarf to her.
When Luke heads back to work after dinner, he finds an envelope which had been delivered to his desk for him. As he opens up a card, a cheque falls out and he realises it was a letter from Becky paying him back his £20. At this stage, Luke had become quite enthused with Becky's quirkiness and wrote her back a letter saying:
"Dear Rebecca, It was good to bump into you the other night... and I do hope you had an enjoyable evening. I now realise that I never thanked you for the prompt re-payment of my loan! Much appreciated. With all best wishes- and of course on the loss of your Aunt Ermintrude. (If it's any consolation, I can't imagine that scarf could suit anyone better than you.) - Luke."
After a while, Luke comes across Becky up town and Becky becomes flustered, being told that Luke was asking around whether she had a boyfriend or not, and tells her she has no time to talk and that she's quite busy. Luke apologizes and gets a taxi to Harrod's to buy some new luggage. As he's on his way there, he spots Becky walking down the streets and gets the taxi to pull over. He invited her to a shopping trip at Harrod's to help him pick out luggage. Initally, at the sound of 'shopping' Becky agreed and hopped in. For the first time in the book, Becky witnesses Luke smile and laugh at a lady who falls over on the street and drops her groceries. She learns that Luke knows just as much about fashion as she does!
After spending hours picking out the right luggage bag, Luke offered to take her out for Lunch. When Luke revealed the luggage was not in fact him, but for his girlfriend Sacha, Becky became very upset after thinking he liked her and told him off that she wasn't a joke to him.
Becky would eventually attract his attention after she successfully wrote an article on a British tablod mazagine called The Daily World exposing his client, Flagstaff Life's duplicity. Luke was outraged because he thought she was getting back at him for mistreating her. They appeared on televion on a hit morning TV show The Morning Coffee, and squared off for it. Soon Luke admits Becky was right about Flagstaff Life defrauding their customers and announces Brandon C won't continue respresenting that bank anymore.
After they appear on T.V together, Luke asks Becky if she would like to meet up with him for dinner to discuss business matters. She agrees, but questions whether or not his girlfriend would be happy for him to be hanging out with another woman. He tells Becky that him and his girlfriend broke up recently. Becky apologizes but Luke says that he certaintly isn't sorry.
Later that evening Becky shows up at the restaurant they agreed to meet at and the first word the atmosphere of the restaurant brings to her head is 'romantic' with the dim tone and fairy lights. It turns out the dinner wasn't for business reasons at all and after Luke buys every dessert on the menu for them to try, he accidently knocks Becky's hand as he went to grab for his cup of coffee. After a moments hesitation, he began playing with her hand, drawing little circles with his thumb on the palm of her hand. He asks whether or not the guy he saw her sitting with the night she came over to him when he was dining with his parents was anything to her. Realising he meant Suze's cousin Becky quickly tells Luke that he was just a friend, and suddenly Luke snaps back to his casual self.
Realising the time, Luke announces that they should both probably be getting home. After noticing Becky's saddened mood after he said it, he also offered if she would like to stay the night with him in one of the hotel rooms. She agrees and he pays for two bedroom suites. As he says goodnight to Becky she begs him not to leave her and offers the idea to just "sit around and talk." 
By the end of the night both Luke and Becky end up  together and that is how to book ends.
In the movie version, Luke is the boss of Successful Saving in New York in the magazine industry before leaving to run his own company Brandon C. He meets Becky through when she gets a job at Succesful Savings in order to work herself up the ladder to work at a fashion magazine.
Shopaholic Abroad:
Edit
Luke and Becky head to New York. He has tried to reach out to Elinor, to no avail. This causes a fight between them, as there are current rumours about that his PR company, Brandon Communications, will lose Bank of London as their client. Adding to the trouble is Becky being in debt and also her insulting his mother makes it worse. Luke eventually learns the truth from his colleague, Michael Ellis, about Alicia's plans to run Brandon C out of business by stealing their most trusted clients so she can set up her own PR company with her fiance, Ben. He immediately returns to London to dig through evidence and finds plenty against her and a few others. Furious, Luke took Alicia and her colleagues by surprise in the meeting room and fired them for it. He turns up at the airport and tells Becky that Michael told him all about what she did for his company, and thanks her although he was angry about it because she should have told him. At the airport bar, Luke tells her that he confronted the reporter who wrote the bad article about her to reveal her source and was livid when he learns Alicia's involvement. He did extra search on her desk to reveal Becky's bank statements. When she felt bad about leaving her own bank statements behind, Luke reveals that he was Alicia's real target and not Becky. He realised his mistake in accusing her for ruining his deal. Luke apologizes to Becky after learning Alicia ruined her T.V. career intentionally so she had an easier shot at embarrassing him by ruining Brandon C's reputation with their clients and running it out of business. He begs her to stay in England and work at Brandon C when he reveals that his staff has been decimated because of Alicia. Becky refuses Luke's request because she doesn't want to settle for a job she hates and had already accepted a job at Barneys New York in Manhattan. Before leaving, he returns her blue-grey Denny & George scarf, revealling that the bidders fighting over it were him. Several Months later, Luke and Becky reunite in Manhattan during his visit to Barneys.
Shopaholic Ties the Knot:
Edit
Luke and Becky are living in Manhattan's West Village. That night, he, Danny and Becky discuss about when would she get married. She replies that she will get married in ten years, much to their disbelief. During a trip to Suze and Tarquin's wedding, Becky finds a proposal note to her from Luke. While trying to figure out which wedding that both will attend, she must also deal with his own issues with Elinor's disinterest in his life. This later comes to head when Luke finds out how much Becky and his mother both hate each other. Eventually, they really get married in front of Becky's home in England after pretending to be married at the Plaza to please Elinor. Becky has cashed in on her wedding gifts and got them two first class around the world trips. Luke eventually agrees to go after she convinces him that Michael can run Brandon C in his absence.
Shopaholic & Sister:
Edit
Luke is very laid back and enjoying his 10 month Honeymoon with Becky. Soon it comes time for them to return to London to live normal lives. Before hand, they embark on a trip to Milan where Luke is to meet a potential client. Becky gives him a new belt, which he's pleased with believing she has changed. However, he soon discovers the truth when two truckloads of the souveniers she has picked up arrived in their flat and the bills being outrageous. With Becky's new job not starting within three months, Luke demands she sort through the souveniers in her spare time and go on a budget. He goes back into business mode with cutting his hair, donning expensive suits and becoming more efficent at work. When Luke found out that Becky has a half-sister, he tells her not to be overly confident with bonding with her right away and expect disappointment. He was right when she learned that Jess is nothing like what she dreamed for a sister and wanted her to admit it. Becky refused and went to her parents to learn more so she can prove him wrong. During a visit at their flat, Luke admits to her that Becky is hard to live with, unaware that she has overheard and thinks their marriage is in trouble. He gets angry with her when he learns about Becky selling the 10 Tiffany clocks that he bought as a present for Arcodas, which she was unaware about at the time and thought she didn't remember buying them in the first place.
Later, Luke comes into the kitchen excited about having the Arcodas Group as the newest client. While his company celebrated, the meeting that Becky has setup with Nathan Temple and tried to stop is revealed to Luke. He is livid with her for it because instead of working the next project with Arcodas, he has to attend some meeting with a man he doesn't want to see. In Cyrpus, Luke likes Temple and learns about the conviction that he got from years ago. He had defended a staff member from an abusive drunken guest and things went out of hand when he attacked him. He is media savvy and had started Value Motels on his own. Temple comforts Luke when Becky went missing after she started believing their marriage was over.
During a call in the hospital, Luke explains that the reason why he left without saying good-bye to her was because he was angry with her about what she did and promises her that they'll work on their marriage together. He also tells Becky that she was right about Temple and her ideas are a great help with both him and Arcodas as Brandon C's newest clients. Luke discovers about her leading an environmental protest against Maybell Shopping Centers(owned by Arcodas), and tells her about their change of plans. He also tells Becky that Robin didn't do his research properly and if he had, this wouldn't happen. Alone, Luke admits that while she's very difficult to live with, he likes the challenge and his life would've been boring if she was easy to live with. He learns that Becky is pregnant with their first child.
Shopaholic & Baby:
Edit
Luke and Becky are going through the joys of having their own child. When she learns of a celebrity obstetrician named Venetia Carter, she wants to have her. Unfortunately, Luke is against it for a personal reason and wants to stick with his family's obstetrician, Dr. Braine(whom Becky has never liked being he's old-fashioned and boring). After she persuades him to meet with Venetia, she discovers his real reason why he was against switching obstetricians from the start. It turns out that she is Luke's ex-girlfriend from college and Becky eventually agrees to go back to Dr. Braine after he tells her about his previous relationship with her.
Adding trouble to Luke is Iain Walker, the owner of Arcodas Group. He's making several bad publicities about Brandon C. and threatening to leave. When Becky finds photos of him being a bit of a playboy, she soon discovers a link between him and Venetia. She realises that Iain is actually ruining Brandon C for his own benefit and exposes him to Luke. When he asks her about the photos and where she got them from, Becky refuses to admit that she had secretly hired a private detective to spy on Luke and Venetia, only to learn that Iain is with Venetia.
At the clinic, Venetia tells Luke what she really thinks of his marriage to Becky being a mistake and he should've stuck with her. He gets outraged and tells her off that unlike his wife, she was uncaring and a mistake to begin with. He and Jane both order Venetia to get out of their lives at once. Soon Dr. Braine arrives to assist with Paula on Becky's birth and they have a daughter, Minnie Brandon. The book ends with Luke, Becky and Minnie living with her parents temporarily, while he tries to save Brandon C for the 2nd time.
Mini Shopaholic:
Edit
Luke is going through the stress of trying to restore Brandon C's good name after Iain intentionally ruins it. Even with the pictures as evidence and Becky's insistence to sue them, he refuses to take the Arcodas Group to court and have them charged for attempting to poach a client. Adding trouble to Luke's stress is Minnie's inability to behave herself. She has been banned from previous Christmas grottos all resulting from her bad behavior. He is doubtful in wanting to have another child and refused Becky's request for one. They have a hard time controlling Minnie as it stands and Luke can't deal with another baby behaving badly. He would reconsider when Elinor tells him that she was just being spoiled too much and can do with a strict regime of discipline. Coinsidentally enough, this confrims Nanny Sue's assessment when he hired her in secret without consulting with Becky to tell both them what they're doing wrong. Her assessment also reveals several problems that resulted in Minnie's bad behavior: including his real reason for refusing to have another child, along with his wife's shopping addiction and her own behavior at the mall that resulted in them getting banned from their previous Christmas grottos. The book ends with Luke asking Becky to come live in LA for three months.
Relationships:
Edit
Sacha de Bonneville: Mentioned only in The Secret Dreamworld of a Shopaholic, Sacha was one of Luke's girlfriends. Once he gave her the luggage that Becky picked out for him, Sacha dumped him and left.
Venetia Carter: Luke's ex-girlfriend from college that appeared in Shopaholic and Baby. She became a celebrity obstetrician and Becky originally wanted her because all the celebrities did when they had their children. However, he refused for a personal reason and inisisted on staying with his family's obstetrician, Dr. Braine. Becky would learn that the truth when Luke reveals his past with Venetia. Back in college, she had a pregnancy scare and even though he was relieved that she wasn't pregnant, he broke up with her because she wasn't the person he wanted to spend the rest of his life with. Venetia never forgave him for breaking up with her and went out of her way to destroy his relationship with Becky. Upon learning how much she mistreated Becky, Luke and Jane (Becky's mother) order Venetia out of their lives for good.
Becky Bloomwood: Luke's wife. Despite the fact Becky does shop and get herself into debt a few times, he loves her. She is intuitive, creative and caring. They married in England at the Bloomwood's home on June 24, 2002. They have a daughter named Minnie.
James Brandon: Luke's father. With Elinor, he had Luke. With Annabel, he had two daughters. 
Elinor Sherman: Luke and Zoe's biological mother. She is described as cold, disinterested and unsupportive of his attempt to reach out to her. Therefore despite Luke's best efforts, both Elinor and Becky despises each other. She willingly abandoned her family in England and married a rich man in America, only to divorce him and marry another one.
Annabel Brandon: Luke's stepmother. Despite not being his biological mother, Annabel loves him and Zoe an has raised them as her own children. She was able to understand his disappointment in Elinor not wanting anything to do with both him and Zoe. Despite her best efforts to get along with her stepchildren's real mother, she was very rude to Annabel which lead to another fight between Becky and Elinor. When she died, Luke was depressed because she was his mother. With James she has two daughter whom are both his and Zoe's half-sisters.
Zoe Brandon: Luke's younger sister and she's close to him because they feel the same disappointment with Elinor. However, she understands why Becky hates their mother and has banned her from having a part in Minnie's life. It's revealed that Zoe has yet to try and reach out to Elinor because she has not forgiven her for abandoning their family without a qualm, along with the way she mistreated Annabel whom she saw as a mother figure.
Graham and Jane Bloomwood: Becky's parents whom are also Luke's in-laws.
Jessica Bertram: Becky's older half-sister from a relationship that Graham had with Margeurite Bertram and Luke's sister-in-law. When they first met, she got along with Luke pretty well. She was the one who learns the difficulties Luke has in living with Becky along with her budget and his obsession for work. She marries Tom Webster.
Tom Webster: Becky's childhood friend, Jess' husband and Luke's brother-in-law.