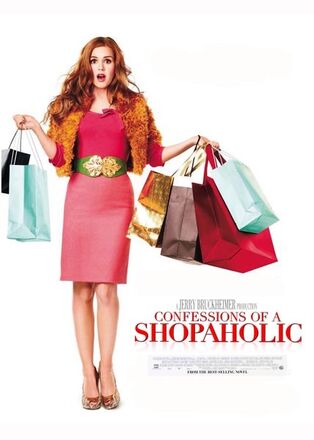 Rebecca Jane "Becky" Bloomwood-Brandon
is the only daughter of
Graham and Jane Bloomwood
. She is a fictional character and the main
protagonist
from the
Shopaholic series of novels
by 
British
author
,
Sophie Kinsella
.
Personal Life:
Edit
Becky grew up in Oxshott, Surrey with her Mum and Dad. After attending Bristol University, she moved to London. She first lived with her best friend Susan "Suze" Cleath-Stuart before she finally moved out with Luke Brandon. Before moving to New York, she worked on a magazine called Successful Savings.
Becky met her future husband, Luke Brandon, CEO of Brandon Communications (a Public Relations firm) during a press conference while she was working as a financial journalist. She helped him pick out luggage for his girlfriend, Sacha. Becky did not know that Luke had a girlfriend and thought that Luke liked her. She had an angry, tearful confrontation with him where she said that she "wasn't a joke." She attracted his attention after she published an article about one of his clients, Flagstaff Life, on the Daily World exposing the bank's duplicity. They appear on television together and they began dating at the end of the first book. Luke and Becky marry in England at Becky's parents' house on June 24, 2002. Becky and Luke have a daughter named Minnie Brandon who was born on December 23, 2003.
In the first book, Becky is a financial journalist. Though she has a load of debts on her bank overdraft and credit card, nothing stops her from buying new clothes, shoes and other things which others may think as unnecessary. As a result, her flat mate and best friend, Susan Cleath-Stuart (commonly referred to as Suze) has to keep an eye on her spending. On the other hand, Suze knows that Becky does not have enough money to pay the flat rent and even tears up a cheque written by Becky. She has attempted to date Suze's cousin, Tarquin, but gives up after a while because he isn't her type.
She has met Luke during a meeting. The next day, he runs into Becky after that and asks her to come shopping with him at Harrods. Initially she really enjoys shopping with him for luggage and goes up and down the shop wheeling around the luggage playfully, helping Luke choose the best purchase. After he reveals that the luggage is actually for his girlfriend, Sacha, Becky is very upset because she thought he liked her. She then tells Luke off that she feels he's used her and will not let him treat her with disrespect.
When her bank manager, Derek Smeath tries to organize a meeting with her, Becky sneaks off to her hometown to hide with her parents for a while. During that time Becky discovers that her kindly neighbors stand to lose £20,000 because of an absentminded advice she had given them and stand to miss out in a windfall resulting from a bank takeover. She was told by her boss, Philip and even Alicia about the takeover, but she didn't bother to listen and wanted to do her own nails. The bank, Flagstaff Life, had sent an offer of a carriage clock to people who would get the windfall, if they change their account to a different plan. The bank knew of the planned takeover and upcoming windfall, while the customers do not, but if they accepted the plan for which they are offered a gift, the customers will not receive the windfall. Becky is horrified by being partly culpable for her kindly neighbors losing out, and sets out to make things right. She calls a colleague from a British tabloid called The Daily World and they allow her to write an article exposing Flagstaff Life's duplicity. The article is a success, but she was unaware it was a client of Luke's company. He was livid about it, thinking she had written the article to pay him back for the way he treated her at Harrods.
On the hit morning show called The Morning Coffee, Becky and Luke squared off about Flagstaff Life's duplicity. Soon after, he realises that she was right about it and announced that he won't continue representing a bank that defrauded their customers and costed them good money. Becky gets a regular slot on the show as a financial advice guru. She helps a lady on the phone overcome her fears of facing her debt by taking them out of her dog's bowl, read every bill carefully and asking for her bank's help in paying her debts off. Becky and Derek work out a deal with her debts. She also begins dating Luke at the end of the first novel.
In the film adaptation, Becky is portrayed by Isla Fisher. In the film, she is an American with red hair(in the novels, she is a brunette and is British). She resides in New York City and works in the magazine industry. Becky gets a job at Successful Savings(in the novel she's working under Philip) after missing out on an interview with a fashion magazine owned by Allete Naylor that allowed her rival, Alicia get the job. She would eventually leave and help Luke run Brandon Communications.
In the 2nd novel, Becky goes to New York City with her then-boyfriend Luke. After being outed as being in debt, she loses her gig on the TV show and all American TV prospects. She also discovers Alicia's plans to run Brandon C out of business by stealing all of their clients, including the Bank of London, so she can set up business with her fiance, Ben in King Street. Becky exposes her to Michael Ellis and Alicia is fired from Brandon C along with a few of her collegues. She also gets her life back on track by selling most of her possessions to pay off her debt and accepts a job as a personal shopper at Barneys New York in Manhattan. Before leaving, Becky finds out from Luke it was Alicia who ruined her TV career when she exposed her in the Daily World about her excessive spending and her debts with her bank statements to back it up. She feels bad about it, but Luke tells Becky that he was Alicia's real target. He asks her to stay in England and work for him at Brandon C, but she refuses. Becky tells him that she already accepted a job at Barney's New York and there's no need for her to stay in England.
Becky plans her dream wedding to Luke Brandon- one in Oxshott, planned by her own parents, and the other in Manhattan, planned by Luke's cold mother, Elinor. Meanwhile, while figuring out which wedding to attend, Becky must also learn to deal with his own issues with his disinterested, unsupportive mother. This later come to head when she confronts Elinor for her cruel treatment to Luke all his life and refuses to tolerate it. This in turn made her despise Becky for calling her out about that and reveals that she thinks she's not good enough for him. She decides to bargain with Elinor about having her wedding at the Plaza in exchange that she writes down her confession in everything that she did including abandoning Luke and take responsibility for herself. After helping helps Laurel get all of her jewelry back, Laurel promises she will help Becky with anything she wants as a wedding gift. In the end, Becky finds a great idea - first attend the Plaza wedding (and pretend to get married) and then take a private jet provided by Laurel's company to England and really get married at Becky's home. At the end of the novel, Becky reveals to Luke that she had cashed in their New York wedding gifts and booked two first-class travel-around-the-world tickets for their honeymoon.
Newly-wed Becky goes to Milan with Luke for a meeting he has with a potential client. After promising she won't spend to much, she explores Milan. Becky has secretly planned to buy Luke a new leather belt as a present to replace the one she ruined with the hot wax. She manages to buy the belt and a few other things, including an Angel handbag. She returns from a 10-month long honeymoon around the world to discover that Suze has a new best friend in Lulu whom is a mother of four. Both she and Becky immediately dislikes one another from the first day they met. She thinks Lulu is horse-faced and hypocritical. In turn, she sees Becky as immature and misunderstanding. Soon, her problems become worse when two truckloads of souveniers show up and it has cluttered their flat with the bills being outrageous. With Becky's new job not starting within three months, Luke demands she sort through the souveniers and go on a budget. During her parents visit, she also learns that she has a half-sister through her father from another relationship. Excited, Becky imagines that her sister will enjoy shopping, having girls night in and helping her cope with Suze not being her best friend anymore. Luke warns her that she might want to take it slow so she doesn't overwhelm her newly found sister. When Becky meets Jessica, she was disappointed because she is studious, thrifty, enviornmental friendly and a bit standoffish. After a shopping trip at a mall in Kingston, Luke told her he was right and wanted her to admit so. Becky refused to give up on wanting to bond with Jess and went to her parents for help. They give her a list of the things her sister likes to do and suggested that she keeps an open mind about them. Becky signed on to eBay and it help get rid of the extra gifts she bought around the world, but also joined on to be a bidder too. However, she had to log off quickly so Luke doesn't get suspicious about it. Becky soon discovers how boring Jess really is in wanting to work on her account and help out with Brandon C win over Arcodas, rather than spend time with her and enjoy girls night in. She begins missing Suze more because she always enjoyed girls night in when they were still living together in a flat that Suze's parents owned. Becky also realises that she has her own life to live with her children and Lulu. When she overhears Luke telling her that Becky is hard to live with, she thinks her marriage is in trouble. She decides to remain courteous even when Jess tells her about the budget and offers to teach her how to be thrifty.
During a visit at a supermarket, Becky wanted to enjoy shopping, but Jess is on her case to save money and not buy unnecessary things. As she continues to ignore Jess and collect more items in her shopping cart, she warns Becky that if she continued to behave the way she is in storing up problems for herself: Luke will leave her. Becky tells Jess off to shut up and she doesn't even know what marriage is because she has a strong one and thinks she'll be proven wrong. Their fight was temporarily interrupted when a stressed out young mother told her infant daughters to stop fighting and even warned Becky and Jess to get along.
After a shopping trip at a supermarket, they have a falling-out with each other. Jess thinks she lives in a fantasy world and is a spolied brat. Becky in turn calls her out as miserable, thrifty and thinks collecting rocks are boring in comparision to shopping. After Jess leaves for her hometown in Northern England, Becky is left alone in the loft and hasn't contacted either Suze or Danny for support. Her parents tried to support her when she tells them about a falling out she had with Jess and even mentions her marriage to Luke being in trouble. Jane reassures her that it's just a big row(problem that all couples go through) and it'll blow over. Becky is temporarily relieved when Luke comes into the kitchen excited about having the Arcodas Group as the newest client. While his company celebrated the partnership with Arcodas, she had her own problems to deal with, including one that she was hoping to go away. Heading down to the first level to get their car, Becky secretly overhears one of Luke's newest secretaries, Janet, telling an assistant to Nathan Temple about him being well and happy. This got her concerned because it means that he'll attempt another meeting with her husband in Cyprus at one of his newest resorts, something that she secretly arranged a meeting with as thanks for the help and later regretted when she learned about his conviction. In a desperate attempt to get Temple away from Brandon C, Becky tries to distract him from waiting for Luke by escorting him to one of London's finest bars and offering to buy him a drink there. He thanks her, but politely declines and prefers to wait for him. Becky's next attempt is to try and secretly sneak Luke away to the safety of his car in the parking lot so it'll give him loads of time to avoid Temple. Then after making some excuse, she'll go back to Temple and try to distract him long enough for her to tell him that Luke isn't interested in meeting him at Cyprus. This however goes awry, when the two men meet face to face. Luke is livid with Becky when he discovers that she had arranged a meeting with him to meet Temple in Cyrpus and that she has bought an Angel handbag(one of which she promised along with the wooden giraffes in Malawi that she won't buy). Before leaving, he is excited about getting plans fon a CD from Jess whom volunteered to help them with the project. When Becky gets upset and jealous about it, he tells her off that she even though she didn't get along with her, she should learn a few things about growing up. Luke even tells her own help didn't do him any good because instead of working with Gary on their next move with Arcodas, he has to attend a meeting with a man with tacky hotels and a conviction. An angry Becky tells him off that she had her own problems to deal with for the last few weeks and he never had any time with her because all he ever cared about was work. After Luke leaves for Cyprus, she reads down the list of things that he has problems with her and realises that her marriage is on the verge of being over.
While alone in the loft, Becky immediately has a nightmare that transformed her into her worst enemy, Alicia, in a fancy pink suit and has a selfish sneer on her face. She was laughing and taunting Jess for being boring, which crushes her. However, after seeing the disgusted look on both Luke and Suze's faces in the way she hurt Jess, she realises that she was being a bitch and must reconcile with her half-sister. During a shopping trip to the supermarket, Becky continued to be haunted by Jess' voice in her head telling her not to buy too much, but she was able to ignore it. Eventually after hearing Luke's voice telling her that he hoped that bag she bought was worth it, she realised that she doesn't need a lot of the stuff she's buying. Leaving her stuff behind, she immediately packs for her trip to Scully in Northern England, very willing to learn how to be thrifty.
When she arrived in Scully, Jess was unhappy to see her and tells her to leave her alone. Becky refused and asks for her help in teaching her how to be thrifty. She admitted that her marriage to Luke is in trouble and she regretted not listening to her the first time around when she attempted to teach her while she was in London. Jess coldly tells her that she knew it would happen and that he would leave Becky if she continued to behave like a spoiled brat by storing up more problems for herself. Before retuning to her own home, Jess tells Becky that she'll have to learn how to save her own marriage by herself because she can't keep relying on others to do so for her. Jess leaves her alone and goes back inside her house. During her time, a friendly neighbor and owner of Scully Stores, Jim, takes pity on a distraught Becky and brings her to his store for a nice cup of hot tea. He also has her stay at Edie's Bed and Breakfast, while she works on a way to reconcile with Jess. Becky also befriends his teenaged daughter, Kelly, and she helps her with her homework and showing her the latest fashion trends. She tells him about her own problems and most of it, she admits were her own fault. He in turn tells Becky about Jess' harsh upbringing by her parents and how she learned how to fend for herself. When she learned that her sister had to pay for her own school trips while growing up, Becky felt that was unfair and thinks the parents should've paid for the school trips regardless. Jim tells her that's because Jess' stepfather, Bill, wanted to teach her and her brothers the value of money and fend for themselves at a young age. This made Becky recollect the times when she was younger and her parents had done a lot of things for her. They've never taught her how to fend for herself, nor teach her the value of money at a young age. Becky realizes that Jess was right the first time about her. She had been spoiled all her life and what Jim said perfectly explains Jess' thrifty mentality and standoffish nature.
When she couldn't reconcile with Jess, Kelly robustly suggested that Becky forgets about her sister and pretend that she never existed. However, Jim disagrees because as hard as she was on herself and others, he thinks Jess could do with a sister like her to bond and help her go easy on herself. Becky agrees with Kelly stating that because they have gone without knowing each other for 27 years, she had been used to being an only child all her life. However, Jim encourages her not to give up and suggests that she accompany his family down to an environmental meeting. Becky agrees to accompany them to an environmental meeting, hoping to reconcile with Jess so she can learn how to be thrifty. At the room, she has a hard time picking out what outfit she'll wear because none of them are environmentally friendly. Becky is estatic when she finds a pair of pink cargo pants and a t-shirt to wear. However the shirt's slogan says "Hot" on it and it got her concerned because of how the others will react to it. Thinking quickly, Becky grabs a red marker and writes "Ban" on top of the Hot part.
At an envrionmental meeting, Becky befriends Robin and a few others, but couldn't reconcile with Jess. While alone, she finally learns about everything that had gone on after returning to Scully: Jess finally confesses that she recently had a talk with her aunt, Florence, about her mother, Marguerite's flirtatious past and the test that she had done earlier was a blood test from a disease she got. Becky also learns that Jess was trying to get a DNA test done between her and Graham because she wanted to know if he was her biological father. It was only then she realised that because there was no DNA test done and that everyone assumed, they may not be related after all and she's crushed by it. Unbeknownst to them, everyone had overheard the conversation and are not only shocked by the whole thing, but also disappointed with Jess for rejecting Becky the way she did. Realizing there's no need for her to stay in Scully, Becky tells a sympathetic Jim that she has decided to pack up and leave for London to try to save her own marriage by herself. Before leaving the meeting, she not only wishes everyone the best of luck with the protest, but also apologizes to Jess for being shallow and selfish around her when she was in London. Becky admits that she should've listened to her the first time when she tried to teach her how to be thrifty in London and it ended up turning Luke away when she continued the behave the way she had. Jess accepts the apology and wishes Becky the best of luck in saving her marriage to her husband.
Becky felt numb when she returned to her room and begins packing for her home trip to London. She never thought this happened in a novel a book she read about long lost sisters and the love they never had. She soon discovers that it did once with a pair of women preparing to get a kidney transplant and did a DNA test and learned they weren't related. Despite that, the two women went through with the transplant and always promised to be sisters regardless if they were related or not. Becky realizes that she should be happy that she and Jess aren't related to each other because they could never understand each other. As she continued packing, Becky got nervous when she started thinking about Luke's anger when he returns to Cyprus. She decides to toughen up and face it like an adult because she must if she wants to save her own marriage right away. When Edie informs her that she has a visitor downstairs waiting for her, Becky naturally assumed it was Jess coming over to visit her one last time to apologize and say her farewell. She eagerly heads downstairs to meet Jess one last time and reconcile with her. However when she arrives in the visitation room, Becky is immediately disappointed when she sees that it's Robin, Jim and the others from the meeting that showed up to visit her. Thinking this is a pity visit, Becky reassures them she'll be fine and there's no need to worry about her because she's headhing home the next day. Robin reassures her that they know that and also tells her it not why they're here. He asks Becky for her help in having her head the media part of the protest. She tells Robin that Jess is right about her being a fraud and there's no need for her to stay. He tells her it won't matter because she has good ideas and it's what they needed. Becky tells Robin and the others that she must return home. She soon hears Jim voice his concern for her about having a mental breakdown if she returns to London in an empty flat alone while Luke is doing business overseas and Jess refusing to reconcile with her. He tells Becky that he wants her to stay in Scully and help them with the media part of the protest because it would help distract her from her problems. She understands Jim's concern for her well being and felt flattered by everyone wanting her help in the protest. Soon, Becky asks the hard question about Jess' opinion in the matter of her ideas because she needed to know the truth. Everyone else got nervous when she asked about it and wanted to change the subject, implying that they're disappointed with Jess right now. However, Becky tells them that she wants to know the truth on the matter because she needs some closure before she returns home to London. A nervous Robin finally tells her that Jess has certain opinions, but she doesn't need to agree with it. Becky immediately disagrees and tells him that Jess has to because she was the main reason why she came to Scully. She wanted to reconcile with her because she needed help in saving her marriage to Luke by learning how to be thrifty. After the whole thing with Jess revealing they may not be related at the envionmental meeting, Becky realizes that she must save her marriage to Luke on her own by being honest with him, stop storing up problems for herself and start being responsible for her own actions. Robin and Jim both understood how Becky felt and decided to leave along with the others.
Before leaving, she gives Kelly all of her Stila cosmetic collection. In return, she gives Becky her friendship bracelet(the same design that that she had on back on one of her trips) and she promises Kelly a shopping trip in London if she decides to come visit her. She asks Jim for one last favor in dropping off the silver Tiffany bean necklace at Jess' house. He convinces Becky to come with him up there so she can deliver it herself. During the drive, Jim tells her that he feels bad for her because she and Jess aren't able to reconcile. Becky tells him that she'll be fine and even feels familiar resentment flooding back to her. Abuptly, she tells Jim that she has tried to get along with Jess when she was visiting her in London and wanted to do sisterly activities with her so that will help them bond. Becky even mentioned that she always felt that she doesn't care about her attempts and thinks Jess is boring, miserable and passionless. Amused and shocked by this, Jim tells her that Jess does have some passion and when they arrive at the house, he'll show her what he means.
During a visit to Jess' house, Jim shows Becky, her rock collection in a cupboard similar to her own shoe collection, which made her resemtment disappear. She saw how beautiful the rocks sparkled in the light of the cupboard similar to her own kitten heel shoe collection. He tells her how Jess got the scar on her leg from trying to get a rare rock from a mountain and was willing to risk herself just to get it. Jim even tells Becky that Jess got arrested at Customs one time when she tried to smuggle a precious crystal in her jumper. Even though she was let off, he knew that Jess will do it again because if there is a certain rock she wants, she'll get it regardless. Becky immediately regrets what she had earlier said about Jess' passion of collecting rocks being boring and realises how similar they are in spite of enjoying different hobbies. She follows her in order to catch up and apologize for her behavior in what she said earlier when Jess was visiting her in London. Unfortunately Becky is not only wearing the incorrect footwear(wearing high heels), but is also inappropriately dressed for such a long hike(glittery shirt and a fancy skirt). Due to her lack of experience in hiking, Becky doesn't follow the trail and has a nasty fall in dreadful weather. Luckily, Jess has the mental and moral fortitude to watch over Becky. Inside her tent, the two girls discover that though their interests are drastically different, they share the same level of passion for their hobbies. Becky reconciles with Jess when she learns about her past and admits she had been right about her all along. She has been a spoiled brat all her life because her parents had given her everything and was used to it. Becky also admits that she had never learned the value of money and fend for herself at a young age because she had everyone helping her out. Therefore, she asks to be taught how to be thrifty so she can save her marriage to Luke and Jess finally agrees. Soon Becky learns from her that she was only half to blame for the marital problems and is suprised because she believed she was fully at fault when he left her with out saying farewell to her. Jess admits that Luke is also to blame because he was obsessed with work and winning over Arcodas that he also neglected his duties as a husband by ignoring Becky's needs. She is finally able to give her the silver bean Tiffany necklace that she bought for her as a gift. Jess loves it and she finally found her half-sister's weakness, she is a Tiffany girl at heart. She tries to deny it, but Becky knows it's true. Both she and Jess are rescued by Suze, Tarquin and his friend from the RAF. 
During a call in the hospital, Luke explains that the reason why he left without saying good-bye to Becky was because he was pissed off and promises her that they'll work on their marriage together. He also tells her that she was right about Temple and her ideas are a great help with both him and Arcodas as Brandon C's newest clients. Suze also apologizes to Becky for the way she had treated her when she came to visit at her house. She admitted she was jealous because she had told her about her around the world honeymoon and she felt like nothing being at home with her children. Suze promises a trip to Milan with Becky when she recovers. She then admits that she was hateful and jealous of Lulu for the way she treated her and often felt isolated from her best friend because they had more in common since they both had children. Suze understood her anger and admitted it was her own fault for not stopping her because she realized how hurt Becky was during their horse riding trip. She understands if Becky would rather bond with Jess more since she is her sister. Becky tells Suze that she'll always be her sister.
The novel concludes with Becky relishing in being thrifty and has finally gotten her marriage to Luke straight. She and Jess have a better understanding of one another since that trip to Scully Pike. Becky helps her and the environmentalists stage a protest against a shopping mall(unaware that it's one of Luke's newest clients, Arcodas). She is found to be pregnant with her and Luke's first child.
Becky is going through the joys of expecting her first child, complete with shopping for baby and a new home. She has gotten along with Jess better, though she still tries to get her to join in on some environmental friendly activities with her. Her relationship with Suze has improved although Becky and Lulu still doesn't like each other. While shopping at Bambinos for baby clothes, she overhears two women talking about a celebrity obstetrician, Venetia Carter, whom moved back to England from LA. She wants to have her and calls Luke up if they can switch obstericians. Unfortunately, he's against it for a personal reason and wants to stick with his family's obstetrician, Dr. Braine(whom Becky has never liked because she sees him as very old-fashioned and boring). After she persuades him to meet with Venetia, she discovers his real reason why he was against switching obstetricians from the start. It turns out that she is Luke's ex-girlfriend from college and this made her very uncomfortable. Eventually Becky agrees to go back to Dr. Braine after Luke reveals his past relationship with Venetia. 
During her baby shower, Becky exposes Lulu to Suze with pictures as proof and she sees her for who she is. She is shown to be frustrated and hassled by her own children. Lulu also is seen letting them eat junk food and drink soda just to keep them happy. Becky encourages Suze to expose her as the hypocritical fraud she is on her own show, even write an article on The Daily World with the pictures as evidence. However, she wants to keep the pictures for herself so they can cheer her up whenever she feels down. During that time, Becky soon notices a love note sent to Luke from Venetia and is furious. She immediately heads down to the birthing center and pretends to be in labor in order to confront her.
Becky's plans backfires when she sees her friends and family arriving for presumed birth. She then tells Luke everything about what Venetia plans to do in destroying their marriage. He is in disbelief, but she confirms it and even questions his marriage to Becky. This outrages Luke and confronts Venetia for her actions. He tells her off that even though Becky does shop, she is also caring, intuitive and reaffirms his love for her. Soon both Luke and her mother, Jane, orders Venetia to leave after learning how she has mistreated her. Dr. Braine soon arrives to assist with the birth. Through her professional and personal woes, Becky happily ends the book a new mum to their daughter, Minnie. Luke and Becky temporarily move in with her parents after losing out on the home they hoped to buy, while Luke works to save his company.
Becky and and her husband, Luke Brandon, want to buy a home of their own so that they do not have to live with Becky's parents anymore. Their young daughter, Minnie, exhibits behavioural problems and seems to be incapable of being controlled by either parent. For example, she has been banned from four different Christmas grottos because of her naughty behaviour. Minnie's inability to behave properly gives Luke doubts about having a second child. He tells Becky that they are already having trouble controlling Minnie and is unable to even contemplate having another child.
In addition to the difficulties of raising Minnie, Becky is also planning a surprise party for Luke. In her efforts to keep it a secret from him, she encounters several obstacles. At first, several of her friends and members of her family doubt Becky's ability to keep such a colossal secret and she faces the financial problem of throwing a grand party. She must also deal with Elinor(Luke's biological mother) who wants to get to know her granddaughter, Minnie. However in spite of Luke's best efforts, Becky had openly forbidden her from seeing Minnie, after the way she's treated them and Annabel(Luke's Stepmother). Becky keeps her encounters with his mother a secret from him as they and her don't get along. She expressly misses Annabel whom was more of a real mother to him than Elinor.
Becky must also contend with her parents whom both are finally fed up with dealing with the fallout of one of her crisis after another and often coming to visit them when she not wanted, have their first serious row, and go for weeks without speaking...even as Jess has to battle Janice about her constant machinations to produce a grandchild, such as giving Tom libido-increasing tea and hiding their condoms. Having enough of her behavior, Becky defends Jess and Tom's decision to adopt their first child by telling Janice off to leave them alone. However, she's offended with Becky for calling her out, but she refuses to back down and stands firm with her.
Just when Becky is about ready to give up on the surprise birthday party which is in a mess, Elinor steps in and offers an unconditional gift, the one real mothers would've made and reconciles with her when she accepts responsibility for her actions. She is stunned that Elinor would help her, but accepts it so Luke can have his birthday party. In a moment of vulnerability, she admits to Becky that Annabel was real mother to Luke. Elinor also tells her that she knows why Minnie is behaving badly: she's been spoiled too much by her parents and she could do with a strict regime of discipline.
Becky is upset when she finds out that Luke has hired Nanny Sue from her hit TV show for help in how they can be better parents. In a surpise twist, she reveals more, including Luke's real reason why he refuses to have another child. Nanny Sue admitted that after observing Becky's own behavior at a mall she frequents, she is the first one to ask if she has a shopping addiction. After realizing that she unknowningly talked to Nanny Sue whom is a mother herself, Becky admits that she does along with her own spoiled behavior and inability to control herself that played a role in Minnie's bad behavior. After agreeing to seek help and attend "Shopaholics Boot Camp", she asks Luke to reconsider about having a second child and he does. The book ends with Luke asking Becky if she would like to come to L.A with him for 3 months and she agrees. During that time, they begin Minnie on a strict regime of discipline in order for her behavior to improve.
Graham and Jane Bloomwood: Becky's parents who live in Oxshott, Surrey. Although eccentric at times, both are very careful and close with their money.
Jessica Bertram: Becky's older-half-sister whom lived in Scully. She is the biological daughter of Graham Bloomwood and Marguerite Bertram. She was raised by her step-father, Bill, the same way as her younger half-brothers, fending for herself. Jess and Becky didn't get along at first, but later reconciled. She dated and secretly married Tom in Chile.
Luke Brandon: Becky's husband, for more on him see his bio page.
James and Annabel Brandon: Father and Mother in laws. Becky has a good relationship with both.
Elinor Sherman: See enemy section.
Zoe Brandon: Becky's sister-in-law. Both have a good relationship with each other. Zoe understands Becky's reasons to keep her mother, Elinor, out of Minnie's life as she has yet to forgive her for abandoning her, Luke and their father.
Minnie Brandon: Luke and Becky's toddler daughter who takes after her mother when it comes to shopping. Minnie has both of her parents' dark hair and Luke's brown eyes. In Mini Shopaholic, she displays behavioral problems and is unable to be controlled by both Becky and Luke. She has been banned from four different Christmas Grottos as a result of her naughty behavior. Minnie's lack of discipline makes Luke reluctant to have a 2nd child and expressly refused Becky's request for one. Near the end of the book, it was revealed by Elinor the result of her bad behavior is because Minnie was spoiled too much and she can do with a strict regime of discipline. Luke and Becky immediately begins her on a strict regime of discilpine.
Susan "Suze" Cleath-Stuart: Suze is from a wealthy aristrocratic family and lives within her means because she has an allowance. When she and Becky were living together in a flat that her parents owned, they were close friends. She loved shopping and having girls night in with her. Before marrying her cousin, Tarquin, and having children, she was a consistent source of support for Becky when she was at her lowest. Suze was also a talented frame maker and made a living off it.
Elly Granger: Another friend of Becky's working at another fiancial paper. She gets a job in banking and isn't heard from again, making her a only one time character.
Tom Webster: A childhood friend of Becky, whom tried to get her to fall in love with him with no avail. Tom was previously married to his then-girlfriend, Lucy, but she divorced him and left. He eventually gives up on making Becky fall in love with him when he realises how much she loves Luke and he moves on with his life. Tom meets and secretly marries her older half-sister, Jess in Chile. Despite his mother's best effots to have a biological child, he agrees to adopt his first child. Tom is now Becky's brother-in-law.
Danny Kovitz: A designer friend whom Becky met in New York. She helped him become successful after creating an elegant dress for her at Suze's wedding. He showed his support for Becky and Luke with a shirt that says "She's a Redhaired Bitch and We Hate Her", refering to Venetia.
Kelly Smith: Jim's teenaged daughter that Becky befriended in Scully. Like Suze, Kelly became a source of support for her during her short, brief time there. She loves makeovers, evident when Becky makes up her face with her make up kit that she brought with her, despite Jim telling her not to show her made up face to her mother. Kelly suggested to her that she forgets about Jess and pretend she doesn't exist. Before leaving for London, Becky gives her an entire collection of Stila cosmetics. Grateful, Kelly gives her, a friendship bracelet and is promised a shopping trip at Topshop.
Alicia Billington: One of Becky's enemies in the novel series and movie. She is described as being blonde, rich, selfish and has long legs. This earns her the nickname, Alicia Bitch Long-Legs because of it. She played an important role in ruining Becky's TV career by exposing her in the Daily World about her inability to save her own money and calls her a fraud for telling others how to do so. Becky would get her revenge on Alicia by exposing her project to Michael Ellis and she is fired from Brandon C. by Luke for it.
Lulu Hetherington: Suze's newest best friend and a mother of four. Despite her best efforts, Lulu and Becky immediately dislikes each other from the first day they met. She thinks Lulu is horse-faced and hypocritical. In turn, she sees Becky as immature and misunderstanding. This would continue into Shopaholic and Baby, when Becky had enough of Lulu because she was driving her nuts and tells her off that she only pretended to get along with her for Suze's sake. A private detective that she hired in secret to spy on Luke and Venetia(whom she suspected of havig a secret affair), hands her photos in a manila file that exposes her as the fraud she saw Lulu as. She is being hassled by her own children by yelling at them, letting them eat junk food and drink soda. When Becky finally showed them to Suze in private during her baby shower, she saw Lulu as the hypocritical fraud she is, but refused to expose her on her own show and prefers to keep them in a closet to cheer her up. It may be implied that aside Alicia, Elinor and Venetia, Lulu is the closest to being an enemy that Becky will have.
Venetia Carter: A celebrity Obstetrician who returned to England from L.A. Becky wanted to have her as an obsterician because all the celebrities have her. However, Luke was against it for a personal reason and wanted to stick with his family's obstetrician, Dr. Braine(whom she never like being old-fashioned and boring). During a visit at Holistic Birth Clinic, Becky soon discovered why he was against it from the start: Venetia was his ex-girlfriend. She was only temporaily relieved when she heard that she had a boyfriend. However, Becky becomes suspicious of her trying to steal Luke away from her. Her suspicion was confirmed when she saw a love note addressed to Luke from Venetia. Outraged by this, Becky marches over to the clinic, pretending to be in labor in order to confront her alone. Despite her plans going awry, she was able to confront Venetia and tells Luke that she's been trying to break them up. He is in disblief, but when she admitted the truth and even asked him why he married her. Luke got angry with Venetia and told her off that he loves Becky and his past relationship with her was a mistake. He and Jane(Becky's mother) tells her to get out of their lives at once and never come back.
Elinor Sherman: Luke's biological mother and Becky's mother-in-law(whom she doesn't consider part of their family). She first appeared in Shopaholic Abroad. Elinor is described as cold and unsupportive of Luke which made the two women hate each other. She shows the same dislike for Becky because of her lower class and shoddy behavior. In Shopaholic Ties the Knot, their hatred comes to head when she calls Elinor out for being cold and disinterest in Luke's attempts to reach out to her and refuses to tolerate it. In turn, she tells Becky what she really thinks of her and openly admits she's not good enough for Luke. Their tolerance towards each other hasn't changed in Shopaholic & Baby, which Becky banned her from being a part of Minnie's life(despite Luke's best efforts to convince ner not to). They will eventually reconcile in Mini Shopaholic when Elinor accepts responsibility for her actions and even helps Becky plan Luke's surprise birthday party. She also helps her realise Minnie's bad behavior and suggest they put her on a strict regime of discipline.
Community content is available under
CC-BY-SA
unless otherwise noted.